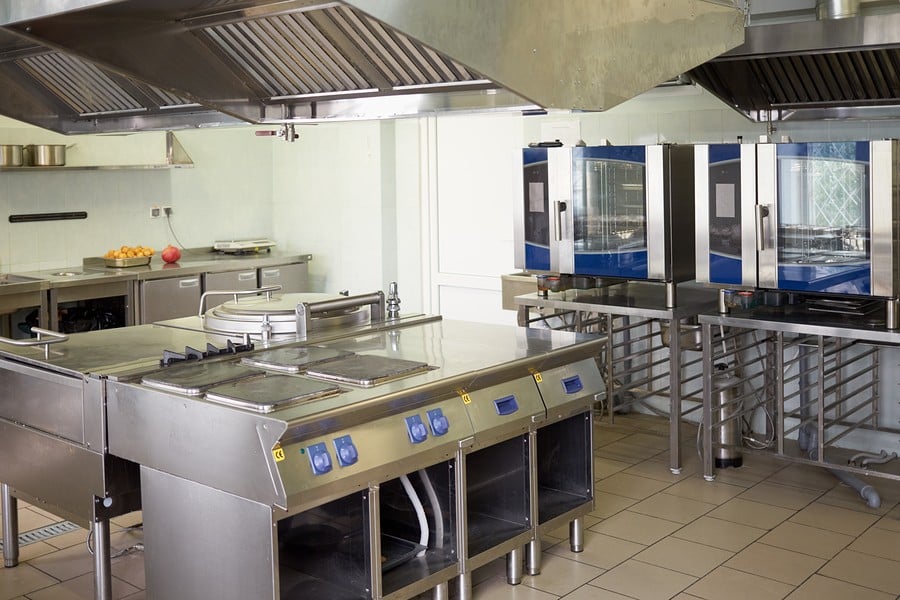 Exhaust Hood Cleaning
Cleaning exhaust hoods is a necessary duty that is often neglected by restaurant owners and managers. A filthy exhaust hood poses fire threats, lowers air quality, and poses health concerns to both personnel and consumers. In many areas, periodic cleaning of exhaust hoods is not only vital for maintaining a safe and healthy atmosphere but also a legal necessity.
This essay will address the significance of cleaning exhaust hoods, the method involved, and the most often-asked issues about this critical activity.
Importance of Cleaning Exhaust Hoods:
The exhaust hood in your commercial kitchen is meant to remove heat, smoke, and grease vapors from the air, but it may get clogged with grease and debris over time, diminishing its efficacy. Here are some reasons why cleaning the exhaust hood on a regular basis is crucial:
Prevention of Fire Hazard Grease accumulation in exhaust hoods may provide a considerable fire hazard. A spark from the cooking area might ignite the grease, resulting in a fire that can swiftly spread to the whole kitchen and structure.
A filthy exhaust hood cannot efficiently remove smoke and grease vapors from the air, resulting in poor air quality in the kitchen. This may result in health issues for personnel and clients.
Regular exhaust hood cleaning is often mandated by local and state legislation, and failing to comply may result in penalties, legal action, or the closing of your firm.
Cleaning the Exhaust Hood Process:
Exhaust hood cleaning is a multi-step procedure that ensures the hood is fully cleaned and working properly. Here is a basic summary of the procedure:
In preparation for the cleaning procedure, the cleaning staff will cover all appliances and equipment in the kitchen.
The cleaning crew will remove the filters in order to obtain access to the inside of the hood.
Scraping and Degreasing: The cleaning crew will scrape away any grease and debris from the inside of the hood before using a degreasing solution to eliminate any leftover accumulation.
The cleaning crew will use high-pressure water to clean the hood's fans, ducts, and other components.
The cleaning crew will evaluate the hood and other components for damage and other concerns that may need repairs.
FAQs regarding Cleaning Exhaust Hoods:
How often should my exhaust hood be cleaned?
A. The frequency of exhaust hood cleaning is contingent on the amount and kind of food prepared in the kitchen. As a general rule, exhaust hoods should be cleaned every six to twelve months.
Can I myself clean the exhaust hood?
A. While cleaning the exhaust hood yourself is feasible, it is not advised. Cleaning an exhaust hood takes specialized equipment and knowledge, and trying to clean it yourself may result in property damage and bodily harm.
What should I do if my exhaust hood is malfunctioning?
A. Immediately call a professional exhaust hood cleaning service if you detect any concerns with your exhaust hood, such as decreased airflow or unusual sounds.
How long does cleaning an exhaust hood take?
A. The time necessary to clean an exhaust hood depends on the size of your kitchen and the level of cleaning required. However, the majority of cleaning tasks may be finished in a few hours.
The cleaning of exhaust hoods is an essential chore that restaurant owners and managers should not ignore. Regular cleaning of the exhaust hood maintains a safe and healthy atmosphere, improves air quality, and reduces the risk of fire. It also aids in compliance.
Without your exhaust hood, you would not be able to safely make use of your ovens or cooking equipment. However, when you leave yours to get dirty, greasy, and clogged, that can be just what you are faced with.
That is because of all the grime and excess material that block your exhaust entirely and restrict any airflow. In turn, that means that all of the heavy gases produced will linger inside the surrounding space and you may even find that your exhaust hood combusts under high temperatures.
That is why you cannot do without routine exhaust hood cleaning, from professional cleaners that you can trust. Fortunately for you, at Brampton Hood Cleaning Pros, you can find everything that you are looking for.
Simply turn to us whenever your exhausts need cleaning and assure yourself of longevity and functionality.
Why Exhaust Hood Cleaning is Essential 
Exhaust hood cleaning is essential as it keeps you and your staff safe, and your business interests protected. A dirty, clogged exhaust hood thoroughly restricts airflow and can lead to much higher temperatures building up inside.
That has proven many times to cause fires and is a genuine risk for your business. Or, if you can avoid any fires, the toxic fumes may slowly accumulate inside your kitchen or manufactory, making breathing less comfortable or even difficult for your employees.
So, to avoid all these circumstances, exhaust hood cleaning truly is imperative.
Kitchen Exhausts 
So, if you have a kitchen exhaust that you know would be better off for our care, you know we will be there for you. Whether you are running a small kitchen area or have a high-volume cooking area, we will have no problem scaling a suitable service to your needs.
Simply let us assess your exhausts and we can deliver the most effective methods of cleaning, removing all of the greases and waste from your cooking. That way, we can free up your kitchen exhausts for many more months of business and ensure a safe environment for your employees.
Industrial Exhausts
Just as much so, if you use exhausts to remove gases and airborne particles produced through your manufacturing operations, you are going to need a specialist level of care. Depending on the types of materials that you expel, you will require a specific cleaning approach.
Fortunately for you, our team knows how to handle every kind of manufacturing element, from plastics and hydrocarbons to steel and iron. Just let us know what it is that you produce so that we can source the necessary cleaning products and methods.
Ceramic Exhausts 
For anybody working within the ceramics industry, we know that it is just as important that you have an exhaust cleaning team that you can rely on.
You need to clean the heavier materials from your exhaust so that you never have any problems baking your pottery. So, be sure to trust in our tried-and-test methods and make sure that you have the optimal level of cleaning.
Neighbourhoods of Brampton