We are your commercial hood cleaning professionals serving Brampton and all surrounding areas. It is our job to clean your kitchen exhaust and kitchen exhaust hood in Brampton, Ontario. Restaurant hood cleaning and commercial hood cleaning services are available to all businesses, industrial facilities, and institutions. It doesn't matter if it's a hospital, a long-term care home, restaurants, food trucks; our hood and exhaust fan cleaning professionals have worked in all of them. Rooftop grease trap containment systems and exhaust fan hinges are also cleaned, repaired and/or replaced by our team.
The Importance of Regular Hood Cleaning for Restaurant Owners
As a restaurant owner, you know that there are a million and one things to keep track of on a daily basis. From ordering food and supplies to managing your staff, there always seems to be something that needs your attention. However, one thing that is often overlooked is the importance of regular hood cleaning.
Your kitchen hood is one of the most important pieces of equipment in your restaurant. It helps to remove grease, smoke, and heat from the kitchen so that your employees can work safely and effectively. If your hood becomes clogged or dirty, it can easily lead to a fire. That's why it's so important to make sure that your hood is cleaned on a regular basis by a professional hood cleaning company.
What is Hood Cleaning?
Hood cleaning is the process of removing all the grease, grime, and built-up residue from your kitchen hood. This process should be done by a professional who has the experience and knowledge necessary to do the job correctly. During a hood cleaning, all of the parts of your hood will be cleaned, including the fan blades, ductwork, filters, and exhaust fans.
Why is Hood Cleaning Important?
As we mentioned before, one of the most important reasons to keep your hood clean is to prevent fires. When grease and other debris build up on your hood, it creates a serious fire hazard. In fact, restaurant fires are some of the most common types of commercial fires. According to the National Fire Protection Association (NFPA), cooking equipment is responsible for 47% of all commercial fires.
Another reason why hood cleaning is so important is that it helps to improve the air quality in your restaurant. When grease builds up on your hood, it can easily spread through the air and affect the quality of the air that your employees and customers are breathing. Poor air quality can lead to a variety of health problems, including headaches, respiratory problems, and even cancer.
As you can see, there are many reasons why it's so important for restaurant owners to regularly have their hoods cleaned by a professional company. If you're looking for a reputable hood cleaning company in BRAMPTON Ontario, look no further than Brampton Hood Cleaning Pros. Our team of experienced professionals will clean every nook and cranny of your hood so that you can focus on running your business. Contact us today to schedule a free consultation!
Our focus is restaurant hood cleaning in Brampton ON and all surrounding areas.
*** We are NFPA 96 CERTIFIED Kitchen Exhaust System Cleaning Company.
*** We provide Health & Safety CERTIFICATE as per NFPA 96 code, before and after
pictures will be provided after the completion of work.
*** WSIB and Liability Insurance will be provided before the start of work.
Are You Looking For a Great Hood Cleaning Company in Brampton Ontario? Brampton Hood Cleaning Pros is Equipped to do Awesome Work for You.
Brampton Commercial Hood Cleaning
Owning a kitchen hood means that you can cook safely within any confined space.
Responsible for carrying away harmful gases, greases, smoke, and even soot in some cases, it is essential in any cooking environment, residential or commercial.
But your hood is only going to be as good as it is clean. A clean hood will always work optimally, keeping your kitchen cleaner, healthier, and safer.
So, you are going to want to trust in professional hood cleaning services and make sure that you are doing everything that you can to get the most from your kitchen hood.
About Us
At Brampton Hood Cleaning Pros, that is where we can help you. Based out of the city of Brampton, ON, we are a professional kitchen exhaust cleaning team that can provide you specialized and tailored hood care services.
Our team understands the importance of great hood cleaning, particularly in commercial kitchens. So, we want to provide support to as many local businesses as we can and show them a superior level of cleaning.
Therefore, the next time you are looking for any kind of service in hood cleaning, remember that you can count on us.
Offering a comprehensive array of support areas, we know that we can offer help to you in any situation. Whether you are operating a busy fine dining restaurant or a BBQ over a charcoal fire, our methods and solutions will be enough to keep your exhaust in top shape.
Just be sure to give us a call whenever you need our services, and we would be glad to show you exactly why we are the number one team in town.
Brampton Commercial Hood Cleaning
At Brampton Hood Cleaning Pros, we offer the highest caliber of commercial hood cleaning services in town. No matter what kind of business you run, if you need exhaust cleaning, we are there for you.
Over the years, we have supported local bakeries, pottery houses, cafes, and even industrial spaces. We know just how diversely important our care is to each of them and that is why we are determined to deliver more.
So, be sure to come to us for all your commercial exhaust cleaning needs and make sure you are trusting in the best in town.
Restaurant Hood Cleaning
In particular, our services prove valuable to the many restaurants of our city. From well-known fast-food chains to luxury dining establishments, every kind of restaurant requires reliable hood cleaning.
That is something that our team knows better than anyone else and that is why we are currently trusted by numerous acclaimed restaurants in Brampton.
Therefore, if you intend to make use of leading hood cleaning services and assure your kitchens of the best, you know that you should also be trusting us.
"I feel so grateful for having found Brampton Hood Cleaning Pros. The level of work that they delivered to my restaurant kitchens was outstanding. It made such a difference to our exhausts and helped us to finally lighten the air when we're working." – Rasmus A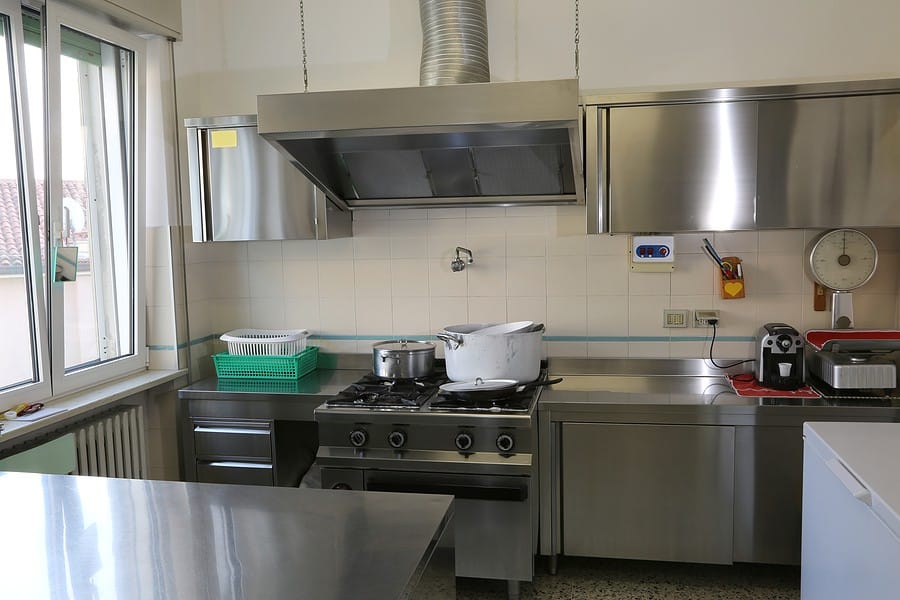 Exhaust Hood Cleaning
Exhaust hoods are commonplace in every environment that uses ovens. While this no doubt still includes restaurants and food companies, the largest scale exhaust hoods that we serve can be found in factories and industrial spaces.
Many manufacturing and development companies in Brampton demand the apex level of hood cleaning for their operations and we recognize the importance.
That is why we are proud to say that we can pledge our support for any standard of the industrial client in need of dependable exhaust hood cleaning.
Rooftop Grease Containment
Over time, a roof can accumulate inside your exhaust vents and begin to coat the surrounding rooftop area. Any nearby surface will steadily cover in the fat, which continues to spread and harden.
This leads to unsightly staining across your roof and a health hazard for anybody attempting to provide you with maintenance work. Moreover, the grease will slowly degrade the materials beneath it and has been known to lead to damages.
So, before any of these things can happen to you, you should take advantage of our professional rooftop grease cleaning service, at Brampton Hood Cleaning Pros.
"Brampton Hood Cleaning Pros are definitely the guys to call when you need expert exhaust cleaning services. They recently took a look at my industrial hoods and devised a plan to give them the deep cleaning that was required. I was so happy with the way they understood my needs and that was why the results were so effective." – Jonny T
Kitchen Exhaust Hood Cleaning
There is no kind of kitchen exhaust that we will not clean. While we undoubtedly deliver the majority of our services to commercial clients, we have supported countless residents over the years as well. Kitchen exhaust cleaning is important to everybody and we know that best.
That is why we work hard to demonstrate our superior exhaust cleaning services to as many people as possible. So, if you have any concerns over the state of your kitchen exhaust at home, you can always depend on our great residential kitchen exhaust cleaning services.
Commercial Range Hood Cleaning
And, of course, you know by now that we are the leading local provider of commercial range hood cleaning services. Even for the most complex products and systems, we deliver the great care that you need.
So, make sure that you are never wasting any time and find out what we, your leading kitchen hood cleaning company, can do for you.
"Without the help of Brampton Hood Cleaning Pros, I never would have been able to clean my kitchen hoods for such a low price. These guys really are the best team for anyone in Brampton." – Carrie P
Do you have any questions?
A few of the most common questions we hear from customers. We are always available to answer questions for you. Should you have any questions please reach out to us.
About Brampton
Brampton ( or ) is a city in the Canadian province of Ontario. Brampton is a city in the Greater Toronto Area (GTA) and is a lower-tier municipality within Peel Region. The city has a population of 656,480 as of the 2021 Census, making it the ninth most populous municipality in Canada and the third most populous city in the Greater Golden Horseshoe urban area, behind Toronto and Mississauga. Indigenous peoples have inhabited the Brampton area for thousands of years. Named after the town of Brampton in Cumberland, England, Brampton was incorporated as a village in 1853 and as a town in 1873, and became a city in 1974.
Neighborhoods in Brampton, Ontario
Things to do in Brampton, Ontario
We are your local commercial hood cleaning experts, servicing Brampton and the neighbouring communities. It is our responsibility to thoroughly clean your kitchen exhaust and kitchen exhaust hood in Brampton, Ontario. The cleaning of commercial hoods and restaurant hoods is provided to all types of enterprises, industrial facilities, and educational institutions. Every kind of facility, including hospitals, long-term care homes, restaurants, and food trucks has been serviced by our hood and exhaust fan cleaning technicians at one time or another. Likewise, our crews clean and repair rooftop grease trap containment systems, as well as the hinges on exhaust fans, among other things.
Brampton
,
Ontario
L5W 2A1
Monday, Tuesday, Wednesday, Thursday, Friday, Saturday
09:00 – 17:00